JUST ONE SIM FOR SEVERAL CARTRIDGES !
When your Eco' SIM cartridge is empty, recover the chip and insert it into a full Eco' SIM cartridge.
The advantage :
Using a single chip reduces the environmental impact and the manufacturing cost…
and therefore the sale price!
Contents of the Eco' SIM HP 364 pack
Each Eco' SIM pack contains two ink cartridges and a removable chip (SIM).
There are 4 packs of cartridges: Black, Cyan, Magenta and Yellow.
Simple and easy to use :
For more information on using Eco' SIM, see the user manual.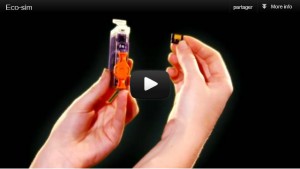 ---
High-quality kits for your printing

Quality has not been overlooked :

The ink in the cartridges and refill kits is suitable for printers.
Our sachets are covered with plastic protection.

A more environmentally-friendly printing solution

The chip in ink cartridges is a polluting electronic component. Eco' SIM means you can use the same chip several times, thus reducing the environmental impact.
Remember to recycle Eco' SIM cartridges!

The ECO' Impressions solutions are designed to reduce the environmental impact of cartridges

ECO' Impressions solutions make it possible to limit the manufacture of the components to reduce the environmental impact linked to the manufacture of the products and the waste they cause.

Easy-to-use printing solution :

Eco' SIM cartridges are used in the same way as other ink cartridges. The chip is placed on a full ink cartridge.
It just takes 4 steps:

Place the chip on the full cartridge.
Place the chip on the full cartridge.
Remove the clip by turning it anti-clockwise.
Install the cartridge in the printer.